Before you buy

For black and white sketches, use a regular pencil.


If you want to do black and white, you'll be able to use a regular pencil.
If you want to make a bright mural, you'll need to buy supplies that come in bright colors like paint, colored pencils or crayons.
Choose colors and styles that work for you. Your artwork always turns out better when you pick items that fit your personality.
My favorite supplies to work with are colored pencils, oil pastels and paints.
Supplies range in cost from inexpensive to pricy, so you have to be careful in choosing the best art supplies for your projects.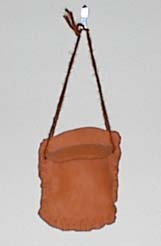 This purse is actually a clay pot.


How to pay for supplies
Because supplies cost money, you will need to find a way to pay for them.
Most kids have to earn the money, like me.
Here are some ideas of ways to earn money to buy your art supplies:
Do chores at home for your parents.
Do jobs for your neighbors.
Get creative about earning money.
You could even ask for the supplies as gifts from family and friends.
Want to learn more?


If you enjoy creating beautiful projects that you can share with others, maybe being an artist is right for you!

True or False: Abraham Lincoln was an only child.
Click Abe's head for the answer.
FALSE: He had a sister, Sarah, who was two years older than him and a brother who died in infancy.