April Fools!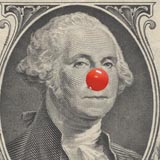 April 1 is a day for friendly pranks.

Everyone enjoys a good joke. That's why a whole day is popular across the globe.
But where did April Fools' Day come from? No one agrees on the date, let alone where it started or why.
Here's one story...
France
In 1582 in France, the government changed the official calendar. In those days, people celebrated New Year's for more than a week, from March 25 until gift-giving on April 1.
With no cars or cell phones, news spread slowly. The details of the new calendar took years to reach certain areas!
And even when the news finally got out, some people refused to accept the new calendar.
Voiceless it cries, wingless flutters, toothless bites, mouthless mutters. What is it?
A snake
Smoke
A siren
The wind
Those who continued to celebrate the New Year from March 25 to April 1 became the brunt of silly pranks and jokes. The people who adopted the new calendar began to play tricks on the ones they called "fools."
They sent them on dumb errands, sent invitations to fake parties, and tricked them into believing things that were untrue.
It took a couple hundred years for the joke to make it around the rest of the world...
Tweet