Watch Your Money Grow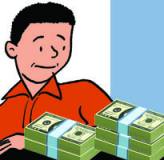 You say interest, I say dividend.
Do you know your regular allowance, gift money, and pay from your jobs can earn you more money?
When you put your money in your credit union savings account, it's called investing.
When you invest, you earn more money, called a return. Interest earnings are a common form of return on investment.
AJ's has two calculators to compare different ways your investments earn interest at your credit union:
How do these investments differ?
The way you invest determines how you name it. If you invest money one time, you call it a lump-sum investment.
Lump-sum investment example: You invest that brand-new $100 bill your grandmother gave you for your birthday.
If you invest money on a regular basis, you call it a periodic investment.
Periodic investment example: You decide to invest ¼ of your allowance every week to start a my-next-cool-thing fund.
How your money grows
When you invest money in your savings account, your account balance grows like an upside-down pyramid. How does that happen?
Dividend rates change and so can you!
The first time you invest, you will be paid a dividend on just the amount you put in your account.
The next time your account pays a dividend, you will be paid on the money you put in your account, plus on the money you've already earned. That's called compounding.
The higher the dividend rate, the more money for your account. Call it an upside-down pyramid, call it a snowball—whatever you call it, that money grows!
Experiment
Use the Lump Sum and Periodic calculators to compare the two different ways your investments can increase.
Play "what if" by entering in different amounts for your lump-sum and periodic investments.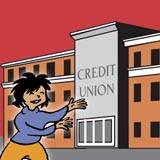 Put your money in the credit union! Try different amounts for the dividend rate, and different periods for the periodic calculator.
Now try different numbers of years—how about 50 years?
Which is easier?
Which is easier for you: investing $5 a week for many years, or dropping a single investment of $1,000 today? $1,000 is a lot, and $5 seems so small!
Can you spare $5 a week? Of course you can. After all, you'll have so much more in the future.

True or False: Andrew Jackson was against slavery and actively campaigned to abolish it. Click Andrew's head for the answer.
FALSE: Jackson was not against slavery and in fact owned slaves at his mansion, the Hermitage.
Tweet