Earth Day: Make a Difference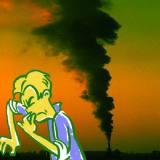 Whew, that really stinks!
Do you know how to celebrate Earth Day? Do you know that kids helped to create it on April 22, 1970?
I mean, what are you supposed to do on Earth Day?
Here's what!
Earth Day exists to make people more conscious of the Earth that they depend on. There are so many things you can do for Earth Day!
Think about something that you really care about. It can be from the smallest concern—a nice bike path being trashed—to the worldwide crisis of pollution.
You can make a difference for anything that is important to you!
Start in your heart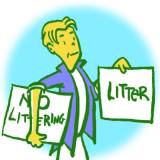 Make sure your sign doesn't become litter.
Take your heartfelt ideas and apply them. Think of ways you can preserve or help. Some things are simple, and others are more complicated.
For the bike path, just go out and clean it up with a couple of your friends.
Or call a local leader and offer to help put up No Littering signs beside the path.
Whatever contribution you make will help. There are ways to make a change that involve little effort—all you need is a little cash!
Make it a family tradition
In my family, Earth Day is a tradition. Before we even knew there was an Earth Day my mom would ask my brother and me to pick an environmental program, so we could donate money. And I've been doing it every year since.
At first you may ask, "Why would I send money to some organization on Earth Day? Why not just go outside?"
Earth Day is in my genes—my mom works for Clean Wisconsin—so let me explain!
Tweet