Teenage Pizza Challenge
Time to eat
First out of the oven for taste-testing are the kit pizza from Chef Boyardee, and two of the frozen pizzas: Kraft Jack's and the Red Baron.
Chef Jim slices the pizzas, and the testers get started.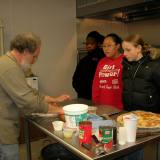 Chef Jim tells Fannie, LaLee and Carissa his recipe for pizza.
While they're writing down their evaluations of the first two, the Papa Murphy's take-and-bake, and Chef Jim's homemade pizzas are ready.
Within a few minutes, the DiGiorno pizza comes out of the oven.
The testers have written numbers on the plates for each different pizza to help them keep track of their slices for rating.
This is a serious job! As they taste, the testers debate the merits of the different pizzas.
The winners
The ratings: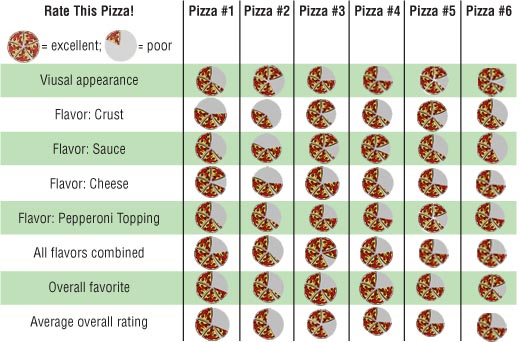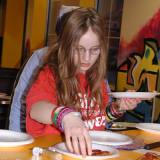 Cynthia says, "host your own food challenge!"
The testers rate the pizzas on a scale of 1 to 5. A "5" means "excellent." A "1" means "poor."
In the table, pizza slices show the averages of their scores. The overall averages are in the very last row.
Click here for highlights and more details of the evaluations.
Pizza everyday and anyway
What's your pizza style?
Pizza is great for parties or for a simple meal when no one feels like cooking. It's an every-day food for our tasters, available at their schools for lunch. But about the school pizza, Fannie says, "it's bad."
After the Teenage Pizza Challenge, the taste testers are going to make Chef Jim's pizza at home!

True or False: Andrew Jackson was a strict vegetarian. Click Andrew's head for the answer.
FALSE: Jackson loved to eat meat. His favorite foods were wild turkey, partridge, venison, cheese, blackberries, and milk.
Tweet