Credit Union Cartoons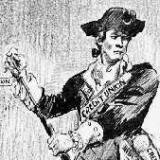 Click image to see full version of On Guard.

Always on guard
This drawing uses a hero from American history, a Minuteman, to show that a credit union protects people's money, which means they have financial freedom.
The Minuteman assures people that a credit union will always be on guard to keep away attackers.
Able and ready to rescue you
In To the Rescue, Stern uses the famous 1920's movie theme of a hero saving someone tied to a railroad track as a train moves closer.
The credit union will save him by lending money at a low rate and teaching him to save his money. That's one way people can avoid poverty.
Standing by to help you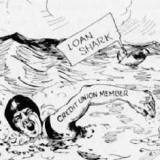 Click image to see full version of The Channel Swimmer.

The 1920s was a time of daring individual accomplishments.
Charles Lindbergh flew across the Atlantic Ocean alone in 1927. In 1926 Gertrude Ederle swam across the English Channel between England and France in record time.
In this cartoon, Stern shows a credit union member swimming alone, trying to get from poverty to opportunity. Loan sharks are lurking about.
Joe's drawing shows that people can reach financial goals for themselves, but if they need help, the credit union is there for them.
Welcoming new members to the family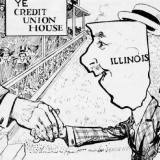 Click image to see full version of Credit Union House.

Credit unions were still a new idea for many people in Joe's time.
These two cartoons show that more and more states were passing laws to insure deposits in credit unions the way bank deposits are insured.
In one, a busy credit union house welcomes two well-dressed new occupants, Illinois and Michigan.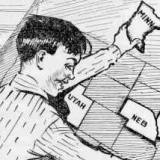 Click image to see full version of Credit Union Map.

Stern uses the image of the map of the United States as a puzzle. As states passed laws to insure that deposits in credit unions would be as safe as deposits in banks, new pieces were added to the puzzle.
People can see from the drawing that credit unions are friendly and can be trusted.
In the other cartoon, the passage of laws legalizing credit unions appears as a U.S. puzzle map.The puzzle is not finished, but all the pieces are there.
This showed people that in time credit unions in every state will be able to serve members across the country. Today there are credit unions in every state—roughly 90 million credit union members in the U.S. alone.
Helping you borrow safely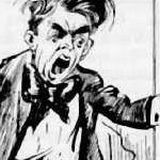 Click image to see full version of The Agitator

Communism
is a form of government that promises to take care of all working people equally.
In the 1920s, communists tried to convince American workers that communism would make their lives better.
But in other countries, especially Russia, communism didn't make peoples lives better. It only took their freedom away.
In this cartoon, Stern shows a credit union helping people save and borrow safely. The full dinner pail is a symbol for the ability to have better lives and keep the freedom that democracy in America provides.
Here and now
Although the credit union movement began elsewhere, the United States now leads the way with more than half the world's membership. Recent figures from the World Council of Credit Unions show that more than 53,000 credit unions in 100 countries serve 188 million members and that number continues to grow.
U.S. credit unions have changed their marketing strategies since the days of Joe Stern in the 1920's. With new technology, they're able to attract new members through the Internet. Click your mouse at the top right of this page to find out how your credit union can benefit you.
No matter how credit unions promote themselve they still pride themselves on the fact that they are owned by their members, and not shareholders.

True or False: Andrew Jackson is responsible for the state of Florida becoming part of the United States. Click Andrew's head for the answer.
TRUE: Jackson invaded Florida, then owned by the Spanish, to capture Pensacola and St. Marks. Eventually the Spanish seceded and gave the US all of Florida.
Tweet