Grow Your Lemonade Stand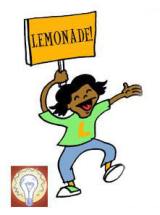 My idea is alive!
Wow—your lemonade stand is a hit! You have customers lined up around the block.
Congratulations. You are about to discover that success brings its own problems.
For example, what if you have customers every day starting at noon and you have to go to school? Are you going to abandon all that business?
You may think to yourself, "Why do I need school? I'm already making a decent living." But you're not.
You only think you are because you don't have to pay for room and board at home. It's unlikely an adult could support herself, let alone a family, on what a lemonade stand brings in.
Do you need to expand?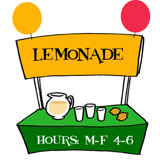 Here's some free business advice.
If the Boston Marathon runs on your street, great. But if it's a couple blocks away, you'll have to arrange for transportation of your product.
You may need a truck. You may have to pay for that truck. You may have to hire an older sibling with a driver's license to drive that truck.
At this volume, it's smart to buy supplies in bulk. Ask adults you know if they belong to a price club, like Sam's Club. They may let you use their discount cards to buy lemonade supplies for 10,000 glasses.
Make it special
Here's a recipe for 100 cups of Incredible Pineapple Lemonade. What would you need to make 10,000 cups of this amazing beverage?
Incredible Pineapple Lemonade
Ingredients:
8 cups of sugar
7½ cups of lemon juice (you can get this at any grocery store)
2 cans of crushed pineapple or 6-8 cans of frozen juice concentrate
8 seeded and sliced oranges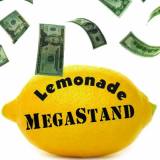 Play Lemonade Czar!
With your parents' permission add eight cups sugar to four cups water and boil for 10 minutes. This is how you make a syrup.
Let the syrup cool, and then add seven and a half cups lemon juice. Stir in the contents of two cans crushed pineapple, or six to eight cans of frozen juice concentrate.
Add eight sliced, seeded oranges and four gallons of water. Chill. Serve over ice.
If you're lucky enough to set up shop in a crowd, you'll need to advertise to let people know you are there because tall people block the view for short people...
Tweet