Reality: Swaziland Experience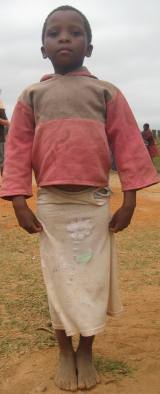 Mybeckoweni, age 5, is proud of her nightgown skirt.
Can you imagine not having any food for the whole weekend? Or living in a one-room hut? Or wearing your younger sister's nightgown as a skirt?
To some of the children in Swaziland, Africa, this isn't a picture in their minds, it is reality. I had the privilege of experiencing their country, their lives…and their incredible smiles.
Get ready
Going to a foreign country takes lots of preparation. You have to have a passport, pack, get shots, and raise the funds for the journey ahead.
I had to get three (dreaded) shots at a travel clinic. Of course everybody hates shots and we all know how fun they are…not.
We had one big family garage sale to raise part of the money to go to Swaziland. Friends also donated other stuff we could sell. We raised about $1,000. It was a lot of fun because we also baked cookies to sell. Some people just gave us money at the sale without even buying anything.
Get going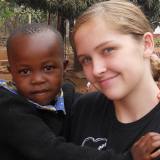 My new friend and I
On my mission trip, I was traveling in a big group of 40 people. The women had to have the
buddy system to stay safe.
Our flight was about 16 hours long from Atlanta to Johannesburg, South Africa. It was very long but we got used to the routine quickly.
We landed in Johannesburg, South Africa and then drove to Swaziland by bus. It was a six hour bus ride. The bus was a little dirty and bumpy but overall it wasn't a bad ride. It was pretty claustrophobic and it took a long time to cross the border from South Africa to Swaziland. Swaziland is a monarchy with a king leading it.
We worked with the very poor...
Tweet