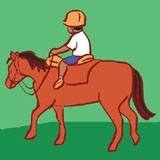 It's easy to make friends with a horse.


Do you love horses? Are they a part of your life? Or is being around horses just a dream of yours?
People love horses for many reasons. Horses are strong, graceful, and swift. They are also exciting to ride. You say "Whoa," and a 1,000-pound animal stops!
Horses can be good friends. Their moods are easy to see. To make friends with horses, take time to understand them and learn the right way to treat them.
Horses can be gentle while you're learning to ride. They can even help you stay balanced and not fall off.
Horses are a lifelong source of great fun and companionship. You can also turn your love of horses into a career.
Careers with horses



Horse careers
and...


How many different careers with horses can you think of? They also need to run, eat, and be cared for. Horses need doctors.
You can train them, and enter them in contests. They are big and strong and can be helpful.
You might be surprised to find out there are dozens of careers with horses. In some jobs, you work directly with horses. In others, you support the people who work with horses.
Which career is right for you?
As you can see, you have many choices of careers. How do you decide what you want to do?


...horse-related
careers.


Talk to people who work with horses. Ask them about jobs with horses. Ask questions such as:
What do you like most about working with horses?
What is the worst part of your job?
Are horses different from each other, like people are?
Find out how they prepared for their careers. Ask:
How did you get your first job with horses?
What did you study in school?
How did you get experience with horses?
Find out about how different jobs compare. Ask:
What kinds of horse careers pay the most?
What jobs pay the least?
What kind of expenses does a person who works with horses have?
You will probably find that the high paying jobs need more schooling...