Tracking a bill
Money can't talk, but it's still possible to hear its story.
Wheresgeorge.com is a website that tracks dollar bills. When you get a dollar, with your parents' permission, you can search to see if your bill has already been found.
If your dollar hasn't already been found, you can enter the information about the bill and the town where you found it. Go back to the website once in a while to see if anyone else joined in tracking the bill!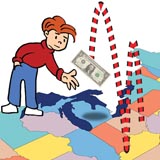 George's journey


George's Journey
Some bills get recorded on the site more often than others. One bill was recorded 15 times! That particular $1 is the most recorded bill in WheresGeorge.com history.
For that bill, George's first recorded stop in Dayton, Ohio, was on March 15, 2002.
It took 61 Days, 8 hours, 48 minutes for George to show up again, this time at a Sonic in Scottsville, Ky
George traveled 4,191 miles before reaching his final recorded destination on March 26, 2005 in Rudyard, Mich. The last record said that George was looking worn out. He probably didn't stay in circulation very long after that.
The Last Stop
Money doesn't last forever. It takes about 4,000 double folds to rip a dollar bill.
Eventually the government removes the money from circulation and destroys it by shredding. Most of the shredded money is thrown away or compressed into pellets.
Every dollar goes on its own adventure. What kind of adventure do you think yours went on?

True or False: Lincoln spared the life of a turkey about to be killed for Christmas dinner. Answer below.
Click Abe's head for the answer.
TRUE: Lincoln's son Tad begged his father to spare the turkey. Lincoln let the turkey become a White House pet.