Money Like History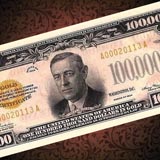 This one is no longer in circulation.
Money like history!
The designs on our bills are pretty much the same designs as 75 years ago. The designs are:
The government has made bills for as much as $100,000.
Whose Face is on the Big Bills?
The Bureau of Engraving and Printing in Washington, D.C., prints all of the money we use. It used to produce a $100,000 bill, but no longer does. President Woodrow Wilson's portrait appeared on this high-value bill.
There are other big bills that are no longer in circulation.
President William McKinley appeared on the $500 bill.
President Grover Cleveland was on the $1,000 note.
President James Madison was on the $5,000 note.
Secretary of Treasury Salmon Chase was on the $10,000 bill.
Before the government picked these lucky guys in 1928, many different people appeared on the fronts of our bills...
What went before?
Before 1928, money would change its looks and its value whenever the government changed, which was often. Storeowners and their customers could never be sure of the bills in their hands! Which ones were real?
After years of confusion, disorder, and counterfeiting in our money system, the government decided that we needed a matching design on all our $1 bills, our $5 bills, and so on.
Having the same portraits on the fronts of all bills and the same scenes on the back is just one way that money is now safer from counterfeit and confusion. Many new features have been added to the bills to make money exchange easier, and to keep dishonest people from making and passing fake money.
Why not President Obama?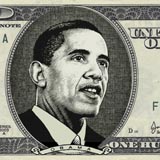 Maybe in a few hundred years...That answer is easy! Money in the United States cannot feature the portrait of a living person.
This is because of a law the government passed way back in 1866. There have been only a few exceptions to this rule.
The United States is not the only country to have this rule. Most of the money throughout the world either has national landmarks or the portraits of country leaders from long ago.
Until recently, Iraq was one of the only countries that had a living person on its money, the dinar.
The late dictator of Iraq, Saddam Hussein, was on almost all dinar bills during his rule.
George's future
Some people think the paper dollar may be replaced by new things. They think plastic "money," like debit and credit cards, will replace it entirely.
For now, there is no reason to worry that the bills we keep in our wallets will be worthless
And who knows, maybe you will design our money's next look.
So while you wait to see whose face you'll pay with next, let George and his pals take care of buying that tube sled for you.
Quick, before the snow melts!

True or False: Although famous for being on the $20 bill, Andrew Jackson hated paper money. Click Andrew's head for the answer.
TRUE: Jackson trusted only gold and silver as currency, having taken a substantial financial hit once from devalued paper notes.
Tweet