Interns Earn Cash, Experience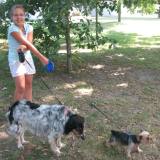 Dog walking pays $10 to $15 a day in my neighborhood.
Have you ever found yourself wanting something like a cellphone or a laptop but you just didn't have enough money to get it?
It's true that jobs like babysitting, dog walking, and lawn mowing would earn you money, but not that much.
Have you ever thought of an internship? For me, an internship is basically a class in which you get to practice a certain topic.
Sometimes they pay you, sometimes they don't. Regardless, internships give experience for a future career—and some give money too.
When an internship gives you money, the pay tends to be
similar to conventional jobs
. For example, the top pay for one four-week (three hours a day) internship I found was a whopping $1,200!
More than just the money

Internships give you something that many conventional jobs don't: experience. Internships differ from conventional jobs in a few ways.
In most regular jobs:
Employers expect you to have some experience before they hire you.
You are paid the going rates for what you do and get a raise as you become more experienced.
Your employer expects you to stick around for at least a few years.
In an internship:
Employers expect to be teaching you the ropes of various jobs in a real work environment. You learn a lot from the people you work with.
If you get paid at all, it's at a flat internship rate. Your pay might not be called "pay," but "award" or some other term, like "stipend." The amount you earn might not be the going rate for that position; you might not be paid at all.
Your employer knows you'll be moving on as soon as the school year ends or within some other predetermined time.
Most internships are for high school and college students.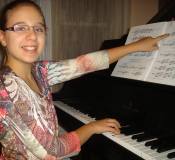 You can tutor a student on an instrument such as the piano.
Middle school too!
If you surf the Web or look in your local newspaper, you might find internships for kids in middle school. Here are some of the internships I found in different parts of the country:
Urban Trailblazers. This is an outdoor program in the San Francisco area that lasts six weeks. It's targeted specifically to middle-school youth. The program gives a $225 award to participants.
Youth Express. This year-round program in St. Paul, Minn., targets middle- and high-school students. Only the high-school students get paid.
Young Apprenticeship Programs. Strolling with the Heifers is a farming-related internship; $1,200 is the maximum pay.
There are a lot of benefits to internships...
Tweet