School's Out! And Summer Learning Can be Fun
School's out for summer, and just in time!
It's shorts weather again, the pool's open, and a cold glass of lemonade is waiting for you.
Kick back and relax, because after all, there is no better time than now...to keep on learning!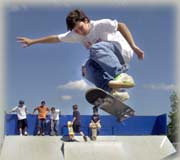 Talk about mastering a skill!
Summer learning is fun!
Summer gives you time off from classes and school responsibilities—and you don't have to stop learning. In fact, summer learning can be downright fun.
Summer's a great opportunity for you to explore interests and learn about whatever you (just you!) find interesting.
What's up this summer
When summer ends, you'll go back to school with a lot of new information to share:
Things you've learned
Discoveries you've made
Everything in between
Learning never stops!
When sleeping in late and watching TV starts to become your boring routine, check into these options...
Tweet