The Middle School Musical!

During rehearsals we had to 'wing it' until we knew our parts better.
I got the part!
The day the cast was announced, I was playing in a basketball game. I didn't even know that I got one of the parts until the next day at rehearsal.
The first couple of weeks, we worked on the songs as a group with the chorus. Then they started paying attention to the soloists: five other people and myself.
Basically we had to "wing it" until we learned our parts better.
Once we had the songs down, we worked on the dance moves as a group. We had a choreographer who had more energy than some of the performers on stage!
She had us learning a lot of moves in a short time, but eventually, we got it.
Serious fun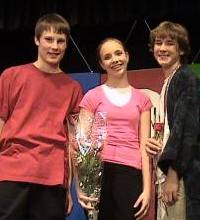 We had a ton of fun! The flowers are from my mom, dad and sister.
Although we had to be serious a lot of the time, we also had a ton of fun. Like the time everyone was supposed to come through a big TV we had made out of wood.
At rehearsal, as everyone was walking through, someone hit their head on the top ledge of the TV and fell backwards. Everyone, including the person who hit their head, cracked up laughing!
With all the fun we had and jokes we would make, I learned something very important. There are times to be funny, and there are times that you have to be serious, especially when on a tight schedule.
Tweet