For centuries, kids have put together things they love:
- Peanut butter and jelly.
- Movies and popcorn.
- Cookies and milk.

It was only a matter of time before some genius combined Word Searches and Bingo.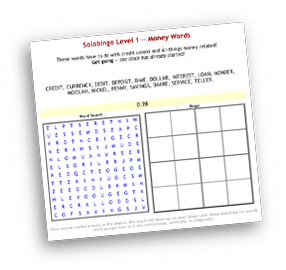 When you click to begin, you'll see a bingo card that's full of words. Wait a minute, you can't see the words! That's because they're hidden! You'll also see a search puzzle. Circle a word in the search puzzle, and the word will show up on your bingo card. Get four in a row for a ...

Solobingo!