Attention: All World Travelers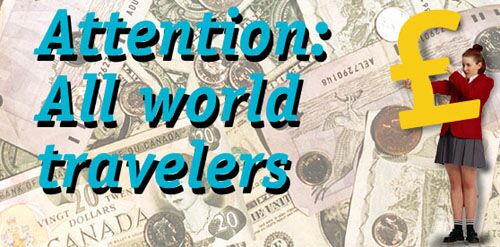 Are you leaving the country this summer? If so, be prepared for a fantastic experience. Depending on where you travel, you may encounter different languages, sights, food, and people. Even if you're just crossing a border, you'll find varying cultures and customs. And, with few exceptions, every other country you visit will require you to use its money.
| | | |
| --- | --- | --- |
| One of the best ways to get ready for a trip to another country is to read about that country. Even a novel will help put you in the mood and mindset of your destination. | | Money makes the world go around, but it takes a lot of different money to go around the world. |
Know the currency exchange rate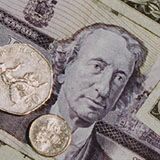 Most likely, you'll not be able to use U.S. currency in another country. There are some Caribbean countries that do accept our money, but this is the exception rather than the rule. Therefore, you'll need to exchange your money for that country's currency. This is relatively simple to do, but how you do it will determine how much it will cost you.
Familiarize yourself with the country's exchange rates, especially if you'll be traveling through more than one country. You'll be dealing with totally different currency and numbers. For example, on a recent day that US$100 in France was equal to about 684 Francs, it was equal to 202,190 Lire in Italy.
Find out what the current official exchange rate is for the currency you'll need at this currency exchange site. This web site also provides a calculator and listing of specific currency in various amounts such as $1, $10, $20, etc. Printing it to carry as a handy guide will help you determine your actual cost in that country.
| | | |
| --- | --- | --- |
| You'll be able to exchange money in several places in the country, but the exchange rate will vary. Credit unions (and banks) and public arrival sites (airport, train and bus stations) usually offer some of the best exchange rates, but their business hours are not always convenient. Hotels, restaurants, and other retailers have better hours, but their exchange rates are generally not as good. | | American Express Traveler's Checks offer the additional advantage of no currency exchange fee at any of their foreign offices, many of which are in larger cities. |
In some circumstances, it's wise to buy some foreign currency before leaving the U.S. For example, if you're arrival time is late night or very early morning, having currency in your pocket for cab fare could save you from a long line at the airport or train station exchange window when you're less than fresh from traveling. Call larger banks in your area to "shop" the exchange rates and transaction fees for buying foreign currency.
Traveler's checks offer protection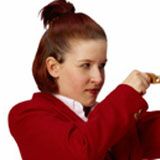 Many travelers like the protection and convenience of traveler's checks. Traveler's checks are accepted forms of payment around the world and can be exchanged for currency.
Available for purchase at your credit union for a nominal fee, they're insured for replacement should they become lost or stolen while traveling. Follow the rules to record checks as you spend them and keep the register separate from checks. You'll be pleased that you did in the unlikely event that you lose your checks and need replacements.
Traveler's checks are also quite spendable at home if you have money leftover at the end of trip. Just don't let them sit in a drawer after your return. Cash them and put the money in savings to earn interest.
Go plastic!
Traveling to Western Europe, Canada, or other modern nations? ATMs are readily available to withdraw national currency using your ATM card ... and at the best conversion rate. The American Society of Travel Agents says you'll save five to eight percent on conversion rates by using an ATM to withdraw currency. That's $5 to $8 per $100, or the cost of some souvenirs.
But, watch for ATM withdrawal surcharge fees. An option is to withdraw larger sums less frequently than smaller sums more often. Also, if you plan to use your debit card, withdrawals can only be made from your checking account--savings account withdrawals are not usually an option.
| | | |
| --- | --- | --- |
| Here's a list of links to all sorts of useful information for travelers to foreign lands. | | Don't worry about language. ATMs will prompt you to choose a language, either by displaying country flags or printed country names. For example, in Western Europe English is represented by the Union Jack flag of Great Britain. |
To check ATM availability in advance, visit the site for your ATM card, MasterCard or Visa.
Once again, depending on where you're traveling, most businesses accept major credit cards such as MasterCard, Visa, and American Express. Credit card conversion rates are usually favorable, but they are subject to change daily, and it will show up on your monthly statement.
Safety first
Practice the same safety rules there as you would here, and you should be fine. Wear a money belt or stomach pack to keep your money, passport, credit card, and tickets safe. If you carry money in your pocket, wrap a rubber band around it to thwart pickpockets. (The rubber band causes friction, which makes it more difficult to remove from your pocket.)

Related Stories:

True or False: Benjamin Franklin once accidentally electrocuted a crowd of onlookers who were watching him experimenting with electricity. Click Ben's head for the answer.
FALSE: He did disperse a crowd of people surrounding his house though by sending a mild shock through his iron fence though.
Tweet