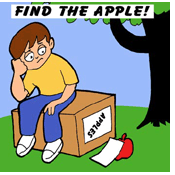 Plain old find-the-object games can be sooooo boring.

In the game of DISTRACTION, we keep things moving!

The rules are simple: We've hidden 10 objects in a moving picture. Find and click all 10 before time runs out. Click a wrong object and your game is over.

Avoid the distractions and move on to a newer, more difficult level of play.

Can you make it through all three rounds before time runs out?