Save Your Money (and your life)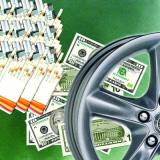 Let's see, new rims or rotten lungs...
Has anyone ever told you smoking is just a social habit?
Ask Khoa Ma, a 19-year old high-school senior in Cincinnati, Ohio.
"I have friends that smoke, and we're all really into our cars," he says. "They tell me that starting smoking was their choice, and that they don't think they were manipulated."
Khoa tries to tell them about better ways they could spend their money, like getting new rims for their cars.
Just a social habit?
He says "it might have been their choice to start smoking, but yet they keep doing it. After a while it's not really a choice anymore."
Don't be a marketing tool!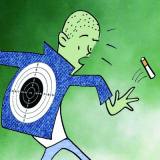 Tobacco companies target young people.
"Tobacco companies target young people while they're in their rebel years," says Diane Laughter (pronounced "law-ter"), tobacco program manager for the American Lung Association (ALA) of Oregon.
She says tobacco companies tell young people that "smoking will make them mature and sexy."
Laughter says that teenagers think smoking is a rebellious act, but "they're just lining the pockets of huge tobacco corporations that are manipulating them."
Four who aren't fooled
Read on to meet four teenage activists in the anti-tobacco movement who know what's going on...

True or False: Andrew Jackson was deathly afraid traveling and never rode on a train. Click Andrew's head for the answer.
FALSE: Jackson was the first president to ride on a train!
Tweet