How to Win an Election at Your School
Convince people to vote for you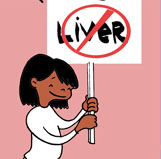 Think about why you want to run, and what you will do if you win.
Convincing people to vote for you is probably the scariest part of an election. The best strategy is to show your fellow students that you will do a good job. How do you do this?
Determine your issues. Think about why you want to run and what you want to do if you win. These are your issues. Then let people know what you will do if elected. When you do this, be careful not to make promises you can't keep.
Give a great speech. Keep it short, simple, and interesting, and students will remember you.
Start by writing down your issues and the reasons you think you're a good person for the job. This is the heart of the speech. It will convince other students to vote for you.
Start with a story to get people listening and then move on to your issues.
Practice your speech so you get used to it, and you won't be as nervous. Ask your parents or friends to listen a couple of times before the big day.
When the time comes to give your speech, relax. You'll be ready and the other students will notice.
Build your network. One of the best ways to get people to vote for you is to talk to them about it. Ask your friends to help.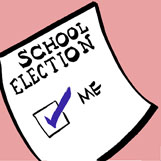 Run for another office besides president!
In many elections, people don't vote at all. If you take the time to talk to a lot of people in the hall or at lunch, and remind them to vote, you'll increase your chances of winning.
Remind them why you're running, and why they should vote for you. They'll appreciate that you took the time to talk to them in person. And they'll probably remember your name on the ballot!
Andy, an election winner at his school says, "I had a core group of six or seven friends who I made sure would spread the word that I was running."
A key thing is to diversify this core group of friends. Andy says it won't help if "all six people are on the football team. Instead, have close friends who are in chorus, basketball, debate.... Then you can reach a greater number of people."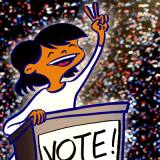 How much money should you spend?
Make posters and signs. When you make your campaign posters, use a catchy slogan that helps other students remember your name. It can help you win votes.
If you have trouble coming up with a catchy slogan, try searching the Internet for sites that help you think of good slogans and quotes.
Don't depend solely on posters. Your fellow students have to know why you're running, and that's why your speech and networking are so important.
You can win
Be prepared to work hard on improving your school.
If you keep these things in mind, you can win your election.
Just remember that you have to be prepared to work hard to help your fellow students improve your school.
If you don't win, remember there are always other ways to get involved and make a difference.
If students see that you get things done, you could easily win the next time.

True or False: The $20 bill constitutes the majority of all currency printed by the United States Bureau of Engraving and Printing today. Click Andrew's head for the answer.
FALSE: More $1 bills are printed than any other currency. Because it is commonly dispensed in ATM machines, the $20 is the highest denomination of money that is used on an everyday basis.
Tweet