Summer Camp My Way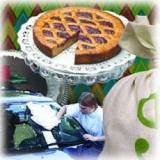 Put the
FUN! in
fundraising.
Who's got the bucks?
Look into getting a
scholarship
or a partial scholarship to help pay for a learning opportunity.
If you belong to an established group (such as a scout troop, church group, or sports team) that has a lot of students going to the same camp, try a fund raiser.
Ask your parents
how much they're willing to contribute for camp. Suppose you offer to give something up if you can use the savings for camp. (Are you willing to downgrade your super-deluxe cable television package to basic for the summer?)
Earn the rest
What's a day camp?
Play all night, sleep all day
Work all night, play all day
Camp only during
the daytime
Stay awake 24 hours
When you still need money after trying the things listed above, and the couch cushions have only turned up $1.34 plus some wrappers, you need to earn the rest.
Ask around to see if anyone is willing to pay you for doing the classic odd jobs, such as yard work or cleaning.
Your parents may also have extra jobs that they would be happy to pay you for doing.
If you're crafty, ask your friends and family if they would buy some of your artwork.
Ask friends for creative ways to save and earn money.
Take a chance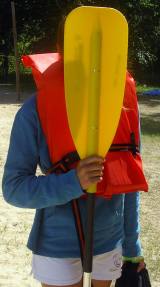 Look ma—no head!
Don't be afraid to try new things. At camp I learned how to canoe and then our cabin went on a canoe trip.
Not everyone wanted to go on the canoe trip, but we all went and it was a great experience.
Camp is an awesome way to fill your summer and the memories will keep you laughing all year!
I've met fun people at camp and through out the year we write to each other in letters, e-mails, or instant messaging. By staying in touch, the camp experience doesn't end when we sign out at the end of our session.
Look into summer opportunities and find out the meaning of "it's a camp thing!" Then get packing!

True or False: Andrew Jackson was deathly afraid traveling and never rode on a train. Click Andrew's head for the answer.
FALSE: Jackson was the first president to ride on a train!
Tweet