The sun's just peeking over the horizon on a warm spring day. I smell the earthy aroma of dirt between my fingers. It's my time to relax, listen to the birds sing, and get some exercise.
This is a typical day in my life as a gardener.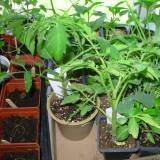 My garden-in-waiting


Why gardening?
Gardening is a hobby for me. I sow the plants, tend to them, watch them grow, and—here's the greatest part—I get to harvest and enjoy what I cultivate!
Not to mention the fun exercise I get when I garden. Here's a free way to get into shape for summer:
Plant the seeds—that means up and down, over and over.
Water the sprouting seeds every morning. That means get moving!
Get rid of those pesky weeds—that means on your hands and knees! My mom and I are the only ones in my family that can mildly tolerate the work.
This may seem like a lot of jobs, but once you get the plants started, you have a much easier time.
Just think! Your parents don't need to pay for a health club!
Eat cheap and Healthy
When you grow your own fruits and vegetables you get healthy food at your disposal.
They taste great, and are much better for you. I plant cucumbers and tomatoes in my garden. They are very delicious on salads, and even just plain.
Don't like either of those? There is a wide variety of fruits and vegetables to choose from, like raspberries, strawberries, melons, carrots, green beans, lettuce, and many more.
Last, you don't get the unhealthy pesticides and insecticides that are on many of today's crops. You know how you grow your plants, and you know what you put on them.
Watching the process of nature as you nurture your plants' growth can be very rewarding...