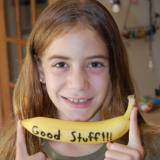 This story is Part 2 in a series about food:
Part 1: Ask Anna About Eats


Hello and welcome to the second story in my series of stories on food for kids!
It's the only place where kids can ask me about food and get yummy recipes for the whole the family to enjoy.
School lunches
Dear Anna,
I have heard bad things about school lunches. What's so bad about them?
John from Idaho
Well John from Idaho, whoever told you that was right.
School lunches may taste delicious, but they can be awful for you. Most schools have snack bars that offer greasy, salty and sugary foods, like French fries, pizza, soda and chips.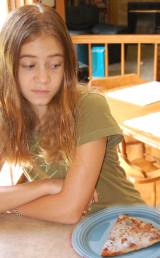 Greasy pizza? Not for me!


North Carolina State University Professor Marshall Brain shows that soda has at least seven teaspoons of sugar per twelve-ounce container.
My mom has pointed out that diet sodas have fake sweeteners that might not be good for your body.
And you can just tell by looking how much grease there is in school lunches.
The tough thing is that school lunches do taste pretty good. What to do?
Here's what I do: I get the school lunch menu, and then I search which ones are the healthiest...