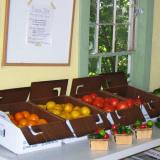 A food share at an organic farm.


Eating healthy doesn't mean you have to sacrifice taste. In fact, most kids and parents agree that healthy food, like fresh fruit and veggies, taste better.
There are many ways to eat healthy. Have you heard of organic food? It's the fastest growing food movement in the country!
Organic food comes from farms that don't use synthetic pesticides or herbicides. The farmers take the time to weed their gardens. They use special tools to keep pests out.
It often takes more time for an organic farmer to harvest the food. He doesn't always get as much from his garden. This is one of the reasons the food costs more.
If these farmers keep animals, they are allowed to graze freely in fields. This takes up much more space than keeping them fenced in or in small pens, which is the more common practice.
Read on to learn about two brothers who grow their own...