Equipment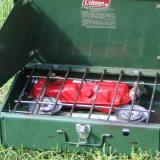 A camp stove is helpful. They come in many styles and prices.


Start with a first aid kit. Pack it with bandages, antibiotic cream, moleskin (for blisters), elastic bandages, and tweezers, just to name a few.
If you don't want to 'live off the land' and eat your food raw you'd better bring a camp stove.
If you can't afford a stove you could bring some charcoal, or buy wood to make your own fire.
Bring forks, knives, plates, and cups. I recommend sturdy reusable plastic or metal kits over disposable paper ones.
Bring dishwashing detergent, and when you eat, make sure you have some water so you can clean up. If you don't clean up, the critters will!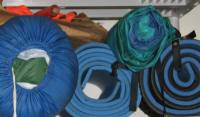 Bring a sleeping bag, especially if you don't bring a tent.


You'll need a sleeping bag, sleeping pad, and tent—unless you plan to sleep under the stars. You might need a blanket or two depending on what time of year you are going camping.
You might want to bring is a bug net for those pesky summer mosquitoes. Don't forget a book for night times, but be sure to bring along a flashlight and batteries so you can see.
If you plan to go hiking, bring a compass. Finally, you might want to bring some entertainment equipment, or at least a camera.
Activities like baseball and football are fun if you bring some simple equipment like balls or a frisbee. When my family forgot our baseball and bat we made do with a pinecone and stick!
Clothing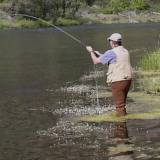 Want to see what my dad caught?


When you're packing clothing, think of the weather, and look for sturdy fabrics such as denim.
If you or your family has outgrown gear like hiking boots, rain gear, and long johns keep them so another family member can reuse them.
You might need some expensive gear that you don't already have.
You can find these things at a local outdoors store, and they may be on sale!
You'll also find many stores that sell camping stuff online.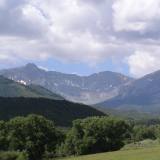 Enjoy the view!


Have fun exploring!
Here are some site with camping information but little or no advertising:
Camping checklist from therthdimension.org
Camping menus from troop1876.org
Camping games from camping.org
Put more into planning your next camping trip. I think you'll agree that good plans make good memories. I hope you have a fun time camping!

True or False: The first use of paper money issued by the United States Treasury occurred during Lincoln's presidency.
Click Abe's head for the answer.
TRUE. At the start of Lincoln's presidency in 1861 Congress authorized the United States Treasury to issue paper money for the first time.