You can just show up
You can start a pick-up game without any of your friends! Just show up at a court and start shooting around. Usually someone will come join you!
Risks of the game


Another way to play basketball is to try out for your school team. Although I don't play for my school, I think that it would be a lot of fun.
For a school team, only the best players make the team.
I know a guy who played for his high school last year and now he plays for UCLA (University of California, Los Angeles). He's really good!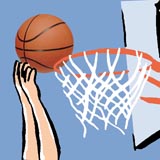 What are the different positions on a basketball team?


What's it cost?
Pick-up games at the park don't cost anything, but after that the cost can range from:
My parents pay $350 a year for me to play in the NJB. They both are athletes and understand the benefits and importance of playing a sport.
For me, I don't worry about costs because I just want to play.
The next LeBron James?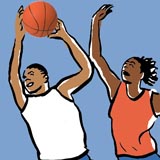 You can play other games with a basketball.


When I was little I wanted to play in the National Basketball Association (NBA). But I don't exactly have tall parents, which means I didn't get the "tall gene."
Luckily, you don't have to be tall to play point guard or shooting guard.
I may not make it to the NBA, but I could still do something with basketball.
There are so many
jobs I could choose from
.
When it comes time for me to start thinking about a career, I want it to involve basketball or sports.
But for now I'm looking forward to the weekend when a couple of my buddies are coming over, so we can "lace 'em up and play some hoops."

True or False: Abraham Lincoln's son was in the area for three presidential assassinations.
Click Abe's head for the answer.
TRUE: He was there, although late, for his father's, and he was in the vicinity for the assassinations of Garfield and McKinley.