Girls Making Media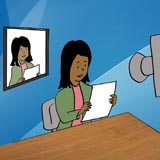 A career with a camera may be in your future.
Find a career with your skills
A career in media can lead you down many paths. In this world of growing technology, many employers want to hire people with media skills.
As technology progresses, companies and organizations have to modernize. People may hire you to be a publicity manager, publisher, or to make commercials.
That is why experience in media is so useful.
GMM is advancing me
Girls Making Media is teaching me how to work with some complicated technology and equipment!

Cool Media-Making Programs

We use cool high-tech programs like Windows Media Maker, Vegas, and Sound Forge to create PSAs in our first-phase projects.

We might need this experience to create a commercial for a future boss or company.

After creating the media pieces, we publish and upload them to sites such as YouTube, Facebook, and the Girls Making Media Web site.

This is important because, in the future, we may have to publish certain media in our professions.


Close

As we advance to studio sessions, we create media on topics that we choose. After the first phase of GMM, we can receive a stipendStipend

We all receive a small amount of money, ranging from $20 to $60.

Sometimes the amount of money distributed varies on how much you participated in that session. If a pupil works very hard, she will get some sort of award at the end of the year.

Close

for the pieces we create.

What are some of the high-tech media-creating programs Poloma has learned how to use?

Media Mucker

Sound Forge

Las Vegas

Webkins

After the first session, we're GMM Graduates! We can still participate in the program if we choose to. We can now make PSAs for whatever issues we want, or maybe we will get assigned a topic.

Now each of us learns to create media for our own causes. Of course, we first have to go through a training course to learn the ropes. The training course is with GMM staff. They teach us all we need to know in the first session to "go on to the next round."
Helping others with GMM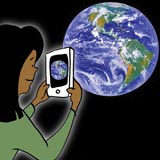 We work with other organizations to help!Helping Others Also Helps Us

Many GMM graduates, like me, support small organizations by producing PSAs that promote those organizations and the issues they focus on.

Sometimes an organization will give me a small reimbursement for the labor and creative work I put into the project.

This looks good to future employers when I apply for a position in media and publishing. It assures them that I will do a good job on their project.

It also shows that I have had experience with media.


Close

Girls making media is a place to have fun!

Not only do employers like people with experience, they like a well-rounded person. The girls at GMM are very supportive, and have taught me to love life, make friendships, and encourage others.

In the end, Girls Making Media will help me do many things! If you are wondering, this project does not cost any money for the creators of GMM. No Cost for GMM

WomanKraft Art Center, American Association of University Women, and Earth Web Media fund this great organization.

Close

It is a shame that projects like these are not offered everywhere. Many individuals in this generation need help obtaining various media skills. Organizations like this should be global!

If this is something you want to know more about, one option is to see if your community has a public access TV station. They often provide training in video production.

Hopefully, you will become influenced reading this article, and will make a difference.

True or False: Jackson was considered very supportive of American Indian rights. Click Andrew's head for the answer.
FALSE: Jackson's Indian Removal Act forcefully relocated ten of thousands of American Indians, resulting in large amounts of suffering and death.
Tweet