Growing up During the Great Depression
What happened?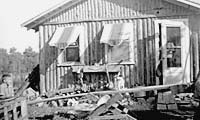 Richard (left) waiting for Jan to join him on the teeter totter they set up over the sawbuck.
Experts don't agree on the precise reasons that the economy collapsed. Some blame a weak banking system and widespread speculation in the stock market.
During the 20's, the gap widened between rich and poor: Ordinary people like farmers and industrial workers had not shared in the prosperity. The government took a "hands-off" approach, and allowed businesses to do almost anything they wished.
Most economists, however, point to "Black Tuesday," Oct. 29, 1929, as the beginning of the Great Depression.
On that day, prices of stock peaked, then plummeted. People panicked. The market tumbled into a downward spiral, and so many shares were sold that the stock market collapsed.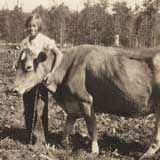 In general, credit unions fared better than banks during the Great Depression.
Could it happen again?
According to Steve Rick, an economist with the Credit Union National Association (CUNA) says, "The probability of a 30's-style depression is small."
That's because of steps taken in the 30's, including unemployment insurance, deposit insurance, and Social Security, to help counteract the impact of the cycles the economy goes through.
However, Rick points out that the Great Depression was a period marked by deflation, or falling prices. This meant lower revenues and profits for businesses, making it harder for their owners to repay loans, and forcing many of them out of business and into bankruptcy.

True or False: Andrew Jackson was a strict vegetarian. Click Andrew's head for the answer.
FALSE: Jackson loved to eat meat. His favorite foods were wild turkey, partridge, venison, cheese, blackberries, and milk.
Want to learn more?
Visit The Great Depression Gallery at the Michigan Historical Museum System to compare prices and read The Depression News.
Compare the value of a dollar during the Depression with what it's worth today by using this price calculator.
Tweet