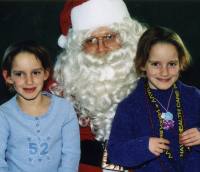 Andie (left) and Hunter visit Santa to tell him what they want for Christmas.


Wrapping up the day
"We like bows and ribbons. Last year, we made curly ribbons for all the gifts," says Andie.
They pick out different gift wrap for different people.
When they get home, Andie, Hunter, and their mom wrap presents. They don't put them under the tree until Christmas Eve.
Andie and Hunter like wrapping, but say they aren't the best gift wrappers. But you don't have to be if you get creative with your gift wrap!
It smells like Christmas

"We like to eat the dough!"


"Every year, we go to a Christmas tree farm to chop down a Christmas tree," says Andie.
Last year, Andie, Hunter, and their mom went to a Christmas tree farm to pick out the perfect tree. "We got on a trailer and rode into the trees to find the right tree," says Hunter.
When they got home, they put the tree in a tree stand in the living room. The next day, their mom put lights on it.
"Then we put on our favorite ornaments and hung up our stockings," says Andie.
A yummy tradition
The weekend before Christmas, Hunter, Andie, and their mom make Christmas cookies.
"We make cutout stars, snowmen, and Santa Claus sugar cookies," says Andie. "And we like to eat the dough," adds Hunter. They especially like to decorate cookies with sprinkles, little dots, and red hots.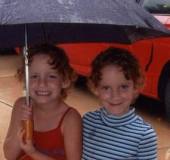 Christmas time is coming!


Singing for their gifts
Andie and Hunter go lots of places to celebrate Christmas. They celebrate at their mom's, dad's, and grandma's. Their biggest tradition is Christmas at Grandma Barb's house.
Then it's off to Great-Grandma Thelma's, where there are 30 to 40 younger kids. "We have to sing a song like "Jingle Bells" before Grandma gives us our gifts," says Andie. "Last year, we got little stuffed animals."
Before long, it's time to head home to unwind and play with their new gifts. Andie and Hunter are always glad to have the rest of their Christmas vacation to show their gifts to their friends, and just to play!

True or False: The Lincoln Bedroom is named so because it was President Lincoln's favorite bedroom in the White House.
Click Abe's head for the answer.
FALSE. Lincoln used the room as his personal office and Cabinet meeting place. It did not become the Lincoln Bedroom until President Truman moved Lincoln's bed into the room in 1945.