Skateboarding for Life
Why do you skate? Adam speaks.
What does it take to compete professionally in the highly competitive world of skateboarding? Adam knows.
"I knew I wanted to be a professional skateboarder since I was nine," says Adam, at home in Fort Collins, Colo. The 19-year-old art student got his first skateboarding endorsements when he was 14 years old.
Getting started
In the beginning it's all about being seen, says Adam. No problem. "I was there all the time anyway."
The best way to attract attention is to participate in any and all skateboarding events. That's where the pros are, and the businesses that might
sponsor
you.
Winners get goodies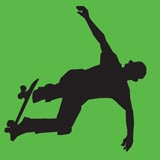 "If I win a contest, I'll get a bag of goodies."—Adam
"I get a 50% discount on everyday merchandise and I'm in the flow for new shoes and other gear. In return I do a lot of demos, judge contests, sign autographs…but I'm a long way from making a living at it," Adam says.
The "flow team" gets the special shoes that, next to skateboards, bring in the most money in the skateboarding industry. "The biggest money maker is designing a pro shoe or being in a video game. Some pros have eight to 10 shoes that they've designed," says Adam.
The top skaters are
millionaires
based on licensed products and endorsements.
The vast majority of skateboard pros are not making a living with their boards. They're getting free equipment.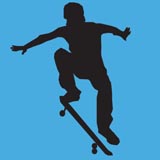 Path to becoming a pro.
Turning pro
Skateboarders can turn pro at a very early age. Mitchie Brusco had endorsement deals by the time he was four. At age six, he had nine endorsement deals, all for free equipment.
Like other pro athletes, you have a window of opportunity that closes as you age. Unlike most other pro sports, skateboarders are pretty much washed up by their mid-twenties.
There's a big crossover between skateboarding and graphic art. This close relationship is one of the reasons Adam is studying art...
Tweet