Can you develop your mind by standing on your head?
Jessica, Brian, Meghan, Noah, and Nate think so! They regularly stand on their heads in a yoga class in Madison, Wis.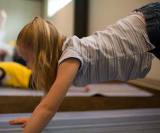 Starting the Dog Pose.


They have lots of other classes in their schedules—soccer, gymnastics, karate, swimming, basketball—but they love coming to yoga for the way it makes them feel.
"You pretend to be all sorts of animals," says Nate, a fourth grader. "Like in the Dog pose, you can pretend you're a dog just getting up in the morning."
Yoga has deep roots
Try the Yoga Pose of the Week.


Yoga is a fitness exercise with roots in ancient India. Meghan, another fourth grader says, "It's kind of like dancing."
She's using yoga's movements and postures to develop skills for healthy living:
Focusing your mind
Exercising your body
Developing your own spiritual view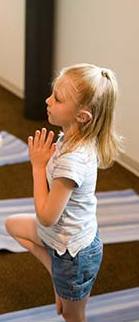 This is the start of a real-people tree.


The reason their teacher Jonathan uses poses named after animals is to explore living in harmony with nature and each other.
Be a tree!
The students learn poses like:
Megan says that when she does these poses, she "feels great!" The focus she learns through yoga helps Megan do better in school.
Stress buster
Soccer, basketball, getting a part in the school play—you have a lot of competition in your life, and that means stress. Yoga is a great stress buster. It's also noncompetitive.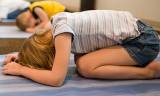 The Child's pose helps you relax and quiet your mind.


Noah says, "Sometimes I do the Tree pose to calm myself down when I'm hyper. I use special slow breathing while I'm being the Tree."
"I had a headache when I came to class. Now my headache is gone," says Nate.
By practicing yoga, you train your body to do what you tell it to do. You can slow down your mind when it's racing, or pump up your energy when you're feeling slow.
One size fits all
You can practice yoga no matter how old you are or what shape your body is in. When you do, you'll learn to love it for a lifetime.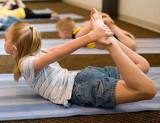 The Rocking Horse pose strengthens your spine and legs.


Noah says, "Yoga is full of peace and love. Our school has an Iron Kid program. One of the rules is to 'include everyone.' You're never too young or too old to do yoga."
Yoga strengthens your muscles, loosens your joints, and tones your body inside and out. It's fun, and can produce powerful results!
Peace!
Every class around the world ends in exactly the same way.
Yoga students sit peacefully on their mats, hands folded in prayer in front of their hearts.
"Namaste," they say. It's an Indian greeting which means, "I salute you with peace."
Namaste!

True or False: The Secret Service failed to stop Lincoln's assassination.
Click Abe's head for the answer.
FALSE: Lincoln created the Secret Service, the enforcement agency tasked with keeping presidents' safe, only hours before he was killed. However, the Secret Service was originally created to stop counterfeiting—not protect the president.