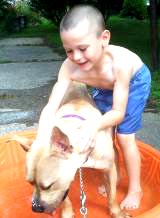 Pinky and I in the pool.


Figuring things out on our own
We found out a lot about Pinky that we didn't know when we adopted him. He had to get a lot of medical tests done, and we had to feed him special food.
Finally we found out the saddest thing of all—Pinky was very overprotective. The veterinarian told us that this might have been related his health problems.
One day he bit a visitor. We were scared he might hurt someone even worse, maybe even one of the family members. Because of this, we had to have the vet "put him to sleep," which means kill him without pain.
The cost of giving him up was emotional. Every time we see an American bulldog we feel sad.
Our rescue experience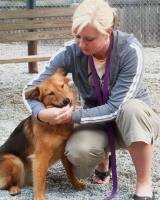 Read my interview with Erin, a STAF worker.


After Pinky, we tried finding a dog at a rescue called Save the Animals Foundation, or STAF. This rescue is a non-kill shelter.
First they made us fill out some forms and asked us some questions.
We looked at a dog named Wizard. We didn't choose him because he didn't get along with other dogs—and there are a lot of dogs in our neighborhood.
After that, they only had to let us look at two other dogs—they knew about our family preferences from the interview. One of the dogs we really liked was Peanut Butter. Believe it or not, he is a mixture of pug and German shepherd!
After we decided we liked Peanut Butter, STAF came and looked at our house.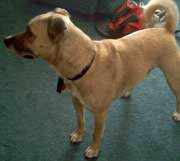 Peanut Butter, age 3, when we first brought him home.


We kept visiting Peanut Butter for about a month to make sure we all got along. STAF were really honest about Peanut Butter's health—he had a gum infection.
The rescue adoption cost more than twice as much as the shelter, but there were no hidden financial or emotional costs.
We've had Peanut Butter for almost two years now and he is a great dog for our family.
Our happy tail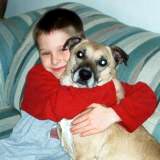 Peanut Butter and I are relaxing on the couch.


Thanks to the rescue, we have a dog that is great for our family.
The major lesson we learned is that sometimes you spend more at first, but it's better in the long run because you don't have to worry about hidden costs later.
Second of all, it's good that there are people like the people at STAF who work for no money at all—just because they know it's for a good cause.
PS. There is another way to get a dog—and we did it! We got our new dog from a neighbor that found it as a stray. Our newest dog's name is Lulu. We still have Peanut Butter and they get along great.

True or False: John Wilkes Booth, Lincoln's murderer, had no contact with Lincoln before he assassinated him.
Click Abe's head for the answer.
FALSE: Booth is seen standing close to Lincoln in Lincoln's inauguration photo.