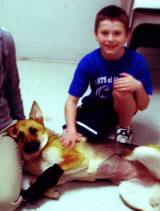 Are you looking for a dog?


People get dogs for a lot of different reasons. Some people want:
Guard dogs to make them feel safe or take care of their property;
Service dogs to help them cross the street, carry things or get in and out of wheelchairs.
Police officers want dogs to sniff out drugs and rescue lost people.
Most people just want dogs for pets. That is my family's reason.
Our experience with a shelter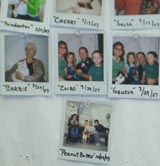 This is an adoption board showing pictures of all the people that adopted animals.


About three years ago my dad searched Petfinder online until he found a list of dogs that might work well for our family.
We wanted to look at dogs from local shelters because our family believes in rescuing dogs from shelters. The adoption prices are particularly low, and that helps too!
We ended up getting an American bulldog named Pinky. Pinky was a year and a half old and they couldn't tell us anything about his background.
He seemed pretty nice and the adoption fee was $45 so we got our house ready and we brought him home...