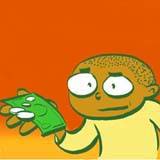 Try these craft ideas.


"Thanks for being an awesome dad!" Wouldn't it be nice to be able to tell Dad how much he means to you?
You can—without spending alot of money. You don't need to rob your credit union account to buy him a gift. Dads love getting gifts that are from your heart.
You can do many things that are meaningful and don't empty your savings account.
Low-cost gift ideas
5-Spot kids have so many good ideas for ways to show you care. See if these ideas inspire you to think of more!


Quotes about Dad.


Make a paperweight. Buy or ask someone to help you find a small block of heavy wood. Then:
Buy or find a single piece of fine sandpaper and sand the block nice and smooth.
Paint the block a nice bright color.
After it's dry, decorate the top with one of your school pictures.
Decorate the sides with other pictures, stars, hearts, stickers—use your imagination!
Give your gift a nice shiny finish by using a clear acrylic spray. The acrylic also will protect it.
Your dad will never forget who gave it to him!
Time is money that buys a great present!

Dads love to eat!
Do you like to cook? Make him his favorite desert. Cooking takes planning, so get help for this.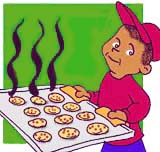 Try these tasty recipes


Dads love delicious goodies. You can never go wrong making something for his sweet tooth.Your creation says, "I appreciate you!"
What if you can't cook, or don't want to? 5-Spot kids have one more idea:
Ask other dads what they would like from their kids! Don't worry; they all know their kids don't have a lot of money to work with...