Frugal Freshman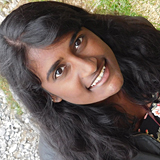 NAME: Shereen
ABOUT ME: Hey there! My name is Shereen and I'm a freshman in the Medical Scholars program at Florida Atlantic University's Wilkes Honors College. I play the piano and violin, as well as sing. I love everything music-related, from music history to music theory! Nothing relaxes me more than putting on a set of headphones or sitting at the piano. Also, I can't resist cuddling up with a good book. College is a whole new experience, and I hope to provide you with finance and career advice as I embark on this journey myself! Please share your thoughts and experiences by posting comments!


Be Healthy Over the Summer
June 23rd, 2014 at 2:25 pm
During the school year, sometimes there's just no time for healthy snacks and good exercise. We do our best, but it can definitely get squeezed out with all our responsibilities. This summer, I want to challenge you to acquire some healthy habits that you will (hopefully) be able to carry on through the school year.
Do at least 30 minutes of exercise every day, even more if you can. I alternate with biking, jogging, and swimming. If you have a sibling or good friend, drag him or her along to make the exercise fun.
Make some healthy snacks. Pick up granola bars instead of bags of chips. Eat some healthy crackers and pretzels, and don't forget the fruits! Since you'll be at home more than usual during the summer, you have a lot more time to go snacking in the kitchen. Make sure you eat some healthy stuff!
Take up a new hobby (or revisit and old one) to keep yourself busy. This summer, I'm trying to practice my piano and violin more, since I finally have time to do so. You could try drawing, music, weaving—whatever you want!
I'm also taking more care of my face this summer, with oatmeal scrubs and other healthy, completely natural face washes. You might want to search methods like
these
and
these
to clear up facial blemishes.
Comment below in the "Talk Back" box and let me know what you're doing to stay healthy this summer! Good luck!
«
Being Unique
The Flaws of Classification
»
ADD TO MY FAVORITES
E-MAIL THIS BLOG
PRINT THIS BLOG