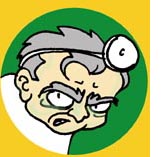 "This is what a thirsty dog does on a hot day."
Unscramble each headstone. Only one will have the correct answer to Doctor Xelplogoog's clue. Drag your mouse over the grave with the correct headstone, and you'll find an item you need for the Mad Doc.
Did you find what you need? Click here to continue.