From Silver to Paper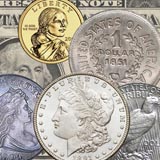 Name six things people used as money.
You see them every day and they disappear quickly. So quickly, in fact, we don't pay much attention to them. What am I talking about?
Dollar bills!
The dollar has an interesting history. Actually, the paper dollar we use and see every day started not as a dollar bill, but as a metal coin.
The Chinese were some of the first people to use coins as money. Copper was plentiful so the Chinese used it to make their money.
After making copper coins for nearly 150 years, the Chinese people began to run out of the reddish metal. When this happened, the Chinese began creating their money out of paper.
They used paper money for about 500 years, then stopped due to rapid inflation. Then they switched the currency to silver.
All of this was centuries before the "dollar" as we know it existed.
Early dollars were created from a mountain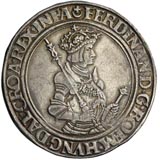 Dollar coins come in all shapes, colors, and sizes.
In the Ore Mountains of Bohemia, in the heart of Europe, the dollar was born.
In 1519—almost 500 years ago—there was a silver mine at the foot of Mount Klinovec. The mine was in the town of Joachimstal. Try to say that one!
The townspeople minted coins out of the silver from the mine. They named these early coins "joachimstaler" after their town. To make it easier to say, they shortened the name to thaler.
Years later, the Dutch and Germans softened the word and changed it from thaler to daler. The English picked up the word as well. They changed it to its modern spelling, dollar, which we know and use today!
When the U.S. colonies belonged to England, each colony had its own money, and it wasn't known as the dollar. Money was called by different names, sometimes dollars, sometimes pounds. Many colonies used gold and silver coins, and other unique forms of money.
After the Revolutionary War, gold and silver were hard to find, so the colonies switched from coins to paper money...
Tweet