Rock With Babies
What to charge?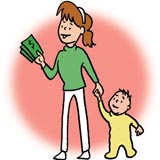 Here's a guide to starting your own babysitting business.
One of the best parts of the job is getting paid.
Just like in the business world, expect to get paid a fair wage for your work. Parents are willing to pay to ensure their kids are safe, and having fun, with an excellent babysitter.
The more experience you have, the more you should charge. Use this checklist to determine how skilled you are.
If you still don't know what to charge, Sitters.com recommends you ask your friends what they are charging.
Advertise!
It's time to spread the word that you're a skilled, reliable babysitter. It's time to advertise!
Look for opportunities in your neighborhood to spread the word that you're a wonderful, capable babysitter: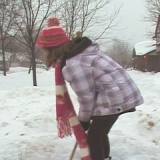 Advertise your skills.



Ask your parents and relatives to tell their friends at work, in the neighborhood, in the golf league, or at church that you're a great babysitter.
Make business cards or flyers with your name, phone number, and e-mail address on them. Hand them out to friends and neighbors. Use caution when handing out business cards or flyers: Don't give out your personal information to people you don't know well.
Practice mentioning to your friends and relatives that you're looking for babysitting jobs.
Make a Web site. Everyone loves using the Internet to find the best products and services. Learn how to make a site to advertise your babysitting skills.
Create a one-page list of your babysitting qualifications. Include any first-aid or training classes that you've taken. Include this information on your flyer or Web site and hand it out when you meet parents face-to-face.
Include references. These are the names and phone numbers of people who've hired you in the past and are willing to tell others about your good work. Just make sure you ask for their permission to give out their names.
Do It!
You've created a business plan and lined up your investors.
You've completed a babysitting class, practiced your skills, and advertised your business.
Now keep reminding parents that you're available, and wait for the business to come rolling in!
With all your planning and practice, you soon will have a fun, and profitable, babysitting business.
Babysitting might even get you through high school and college with the money you'll make.

True or False: When the US issued its first postage stamps in 1847, the postmaster general wanted to use Jackson's image on the new 5-cent stamp. Click Andrew's head for the answer.
TRUE: The postmaster general wanted to use Andrew Jackson's image, but switched to Ben Franklin, because it would be a more unifying icon for the divided nation.
Tweet