Paddlin' for Gold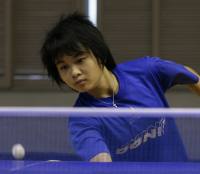 Singapore's most-watched table-tennis player is 13 years old.
Table tennis may be a basement sport for most teenagers. For a lucky few, though, it's a shot at the spotlight—money, fame and a career in the making. Who wouldn't pick up the paddle for that?
Meet Isabelle Li, who turns 14 this year.
This nimble dynamo who stands at 5 feet, 2 inches is Singapore's most-watched table-tennis player.
In 2007, she ranked eighth in the International Table Tennis Federation World Junior Circuit. Despite playing only five of the 19 events in 2008, she placed 81st in the world ranking stats for competitors younger than age 18.
That's quite an achievement for a sport that's played by professional competitors all around Asia, Europe and increasingly in the United States. The number of worldwide players is about 300 million!
Junk food and Facebook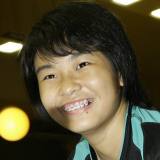 Isabelle's just a regular 13-year-old.
When I meet her for the first time at the Singapore Sports School, I am struck by how little and shy she is. She's wearing a black T-shirt and shorts. Her short, black hair is glistening with sweat.
She is looking down most of the time, and it is only when I say to her: "Nice to meet you, Isabelle," that she looks up and smiles, almost sheepishly.
We are at the school's table-tennis training room. It is pretty huge (not like most basements, that's for sure) and filled with training tables for the young athletes.
There are no chairs, so we opt to sit on the floor. "I hope that's okay with you, Isabelle," I ask her. She nods. I begin to worry she's not going to be much of a talker during the interview.
But in the hour that I spend with her, Isabelle opens up. She is hyped as the youngest paddler to represent Singapore in national and international competitions. Yet she emerges as just about the most regular 13-year-old you'd expect.
Isabelle's face lights up when we talk about movies, Facebook and junk food. "I like pancakes," she says, but then frowns. "But the school doesn't serve that all the time."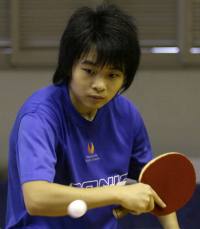 "After a while, you get used to it..." --Isabelle
Weird at first
For most of you, high school is about a few things: Homework, social activities, a trip to the mall to indulge in the latest gossip, or a game of football after school. At home, there's dinner and then, bedtime before a new day begins.
For Isabelle, it's not quite the same: the Singapore Sports School is a boarding school. That means she's only home on the weekends. On Sundays, she has to return to the school campus by 8 pm.
It's during this time when she's home when she's able to be a teenager again, she says. "I go to the movies, shop at the mall, go to church. It's a nice break from my training."
Boarding school is unusual for most teens, and Isabelle's no different.
"When I first came to school," she says, "it was weird not being able to go home. But after a while, you get used to it—even enjoy it some days; you learn to become very independent."
You'd think so.
Tweet