Benjamin's Other Side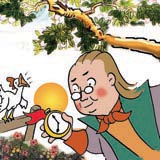 Franklin explored Daylight Saving Time while living in the heart of London.


Master of all trades
Benjamin Franklin had wonderful ideas that are still being used today.
Hoping to provide the world with more time to do productive work during the summer instead of during the harsh winter, Franklin proposed Daylight Saving Time (DST).
Aren't libraries the most ingenious system? They are an inexhaustible source of knowledge to the public. We have young Franklin to thank for this.
At the age of 21, he established the first lending library in America. It not only housed a variety of books, but also exhibited specimens of natural history. There were stuffed snakes, a dead pelican, and a collection of fossils!
A fun kind of guy!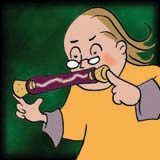 Capturing the Lightning
Page 3


In contrary to the solemn man that many accounts of history portray him to be, Benjamin Franklin often proved to be a rather playful fellow.
A crowd of people once gathered outside Franklin's house hoping to catch a glimpse of the scientist's discoveries. To rid himself of the distraction, Franklin sent a harmless jolt of electricity though the iron fence surrounding his house! The people soon left him alone.
Benjamin Franklin may or may not have been a math genius, but when conducting his experiments, he would deliberately avoid the use of mathematics.
Instead, he preferred trial and error and often worked with simple objects like glass tubes, gun barrels, corks and wax plates.
Franklin often faced failure. He took it in his stride and said, "Do not fear mistakes. You will know failure".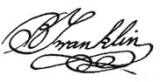 Franklin's the only person who's signed all four of the documents that helped create the United States.


Wisdom of the ages
Franklin himself says that many of his sayings and maxims were gleaned from the "wisdom of the ages and nations."
He had a long life to acquire that wisdom. On April 17, 1790, Franklin passed away peacefully at the age of 84.
Twenty thousand people attended the funeral.

True or False: Besides the Latin word "Fugio" to mean that time flies, the other phrase Franklin wanted on the first US coins was Franklin's famous saying, 'In God We Trust.' Click Ben's head for the answer.
FALSE: The other phrase on the first US coins was 'Mind Your Business,' Franklin's direct and colloquial advice to small business owners.
Tweet