Dog in the Ring!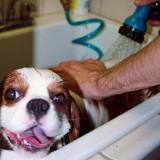 Matt bathes Wells the night before the show.
Behind the scenes
Success depends on careful preparation, and if you're an owner, your dog must be in top condition.
Owners must:
Feed their dogs a balanced diet
Exercise them daily
Bathe and groom them regularly
Properly train them for showing
All of this requires time. Owners must plan ahead; as most shows require that you enter a few weeks in advance.
Those of us who enter a show get a schedule about a week before the show. The schedule shows the times that each breed will be judged.
The basic terms in showing dogs.
I like to allow an hour and a half before the time so that I'm not rushed to find the ring in which I'll be showing (some shows have as many as 15 rings).
Which of the following is an example of basic dog grooming?
Toenail polish
Tail docking
Mouth care
Hair styling
The extra time also lets me take my dog for a walk and one last brushing, which helps both of us to relax. Click here to find out what happened the first time I showed Wells!
In the ring, judges will examine all of the dogs carefully. They will feel over each dog, and will watch each one's gait (the dog's movement).
They will also compare the dogs standing in line and moving together. Though all judges will do these things, not all will do it the same way.
Learning the procedure of the show ring is a big part of training.
Getting started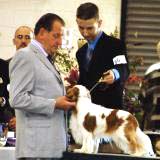 Wells allows the judge to examine his head.
First you get a dog.
If you already have a dog and it's registered with the American Kennel Club, then you can begin showing in Junior Showmanship.
If you don't have a dog, dog shows are one of the best places to learn more about them.
At shows you can talk with breeders and owners of different breeds to see which breeds you like best.
It's also the best place to learn about how dog shows work before competing in one. You can find a confirmation event near you by visiting the AKC's web site and clicking on the Events tab.
It's important to train dogs throughout the week, and if you're new to showing, it can be difficult to know how to train. Local conformation clubs often offer training classes with experienced teachers. You can also ask people at dog shows if they know of good classes.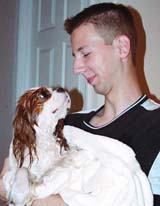 Showing dogs is a rewarding hobby.
Keep cost in mind
Showing dogs can be expensive. In addition to the regular costs of buying and caring for a dog, keep the following costs in mind while budgeting:
Training classes (about $5 per weekly class)
Fees for entering shows ($20-30 for conformation, often half that for Junior Showmanship)
Equipment and grooming supplies (varies depending on the breed of dog)
Travel expenses for shows not held nearby
Though showing dogs requires a commitment of time and money, it's also an exciting, rewarding hobby.
No one can win all the time. In fact, learning to show dogs is often a lesson in losing graciously, but win or lose the time spent bonding with your dog is special.
That's why I like to compete in dog shows, because I love dogs.

True or False: Andrew Jackson never weighed more than 145 pounds. Click Andrew's head for the answer.
TRUE: Jackson was 6 feet 1 inch and never weighed more than 145 pounds.
Tweet