The Lunch Box Debate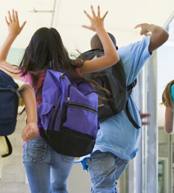 Ask the Super Youth Team.
It's finally lunchtime. You sprint out of the classroom to the cafeteria.
The lunch lady plops a blob of grey squishy stuff on your tray and hands you a sandwich covered in gravy.
You find a friend and sit down. He's already halfway through his peanut butter and jelly sandwich. He takes one look at your lunch and scoffs, "You're actually going to eat that?"
And thus, the Great Lunch Box Debate begins. Let's look at the arguments.
Nutrition
If Nutrition is the most important factor to you, you're better off bringing your lunch from home.
When you bring your lunch from home, you have the power to balance it. At school, you just have to take what they give you.
Remember, just because you bring a lunch from home doesn't automatically mean that it's going to be healthier.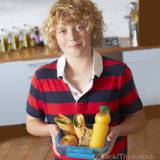 Pick what you're most likely to eat.
If you pack your lunch with soda, candy, and chips you actually may consume more sugars, fats, and calories than if you eat the school lunches.
Taste
Taste is a matter of personal preference.
Some students prefer hot food from the cafeteria rather than a cold lunch from home. Others prefer the taste of sandwiches or leftovers from home.
If you won't feel satisfied without a hot meal, or if you really just love cafeteria food, buy it. On the other hand, if PB&J sandwiches are your favorite, or you're weary of the sometimes questionable cafeteria food, pack a lunch.
Always pick what you're most likely to eat. If you're hungry during the day, you won't be able to focus on your classes.
Convenience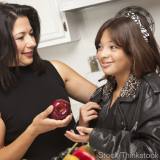 Make sure you have all the ingredients!
If you pack your own, you have to wake up early to put it together and you need to make sure you have all the ingredients you need the night before. If you don't, then you have to make a trip to the store.
Buying your lunch at school is much more convenient. You just hand a couple bucks to the lunch staff and voila! You've got a lunch.
If you don't like to wake up early, or tend to have busy mornings, consider buying a lunch for convenience.
When deciding what to do, be sure to weigh the risks...
Tweet