Recently, I grew my hair out and donated 12 inches of it to an organization called Locks of Love.
My inspiration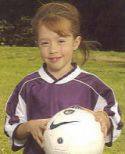 Katie's a patient hero because she's so courageous.


I first heard about Locks of Love when I was reading a magazine article. It talked about Katie Knudson, who was five years old at the time.
Katie had a form of leukemia usually seen in people over the age of 40. After her leukemia diagnosis, Katie donated some of her waist-long hair to Locks of Love.
I felt inspired to help the Locks of Love project after reading this article. Even though Katie was sick and was having so much to deal with herself, she still thought about others.
I talked to my mom about it and she said I could do it to help out and as a community service project to earn a patch for Girl Scouts. I decided to do it.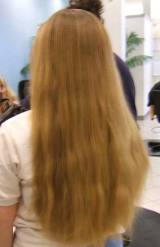 My hair had to be at least 10 inches long.


Locks of Love
Locks of Love is an organization that lets people who have healthy hair cut and donate it.
Locks of Love takes the hair, makes a wig and gives it to someone who has no hair due to a disease such as cancer.
The guidelines for the Locks of Love organization to donate your hair are:
Hair has to be at least 10 inches long:
Hair has to be healthy, clean and dry;
Hair can be colored or permed, but can not be bleached or treated with a chemical.
A long process
Growing my hair was not always fun.


Growing my hair took a long time! I started growing my hair during my second-grade spring break in 2004. I cut my hair two years later.
Before I started growing it out, my hair was just below my chin resting on my shoulders. I grew my hair out to 14 inches from the base of my neck.
I ended up donating 12 inches for Locks of Love.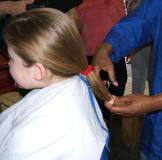 My friends cheered when I got the first cut.


My cheering section
Many people cheered me on the entire time. My scout leaders and Girl Scout troup mates encouraged me to keep on growing my hair, reminding me that it would be for a great cause.
My troup leader, Ms. Gloria, always encouraged me and asked if I needed a ruler to measure my progress. She knew that sometimes I wanted to give up but she helped me by teasing and making me smile.
My best memory.


Lexi, a troopmate, told me it was a good thing I was growing out my hair so another person would feel better about herself.
My friends Rachel and Lauren encouraged me and told me, "keep going girl," whenever I talked about Locks of Love. I've met other people who've donated their hair.
This year I am asking my troop mates if any of them would be interested in growing out their hair for Locks of Love with me.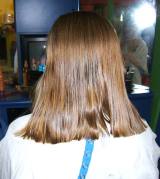 My new hair length.


The day finally arrives
Some of my troop leaders, troop mates, friends and family went with me to get my haircut. I got my haircut at Cartoon Cuts on a busy Saturday.
When I got to Cartoon Cuts I waited for the lady to call my name. Then, I sat down in the chair. The lady measured my long hair and the cut it off. She did not charge to cut my hair and she even styled it for me!
When I went home I felt really proud of myself.
Hair today, gone tomorrow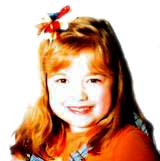 My new locks!


When you think about it, hair is something you grow and lose each day—every time you brush. It doesn't cost you anything to grow it out.
Once it's long enough, if you donate it, it can be put to good use helping other people feel good about themselves.
I hope you do. I will do it again because I really want to help people that are suffering from cancer.
by Micayla Chapman, age 8 at the time of writing this story, former Googolplex youth editorial board member

True or False: The first use of paper money issued by the United States Treasury occurred during Lincoln's presidency.
Click Abe's head for the answer.
TRUE. At the start of Lincoln's presidency in 1861 Congress authorized the United States Treasury to issue paper money for the first time.