Grades
"Grades are not as high as they were in high school. Sometimes getting a "B" is all you can do." ~Meghan
"If you end up falling behind or doing poorly on an exam, GO TALK TO THE PROFESSOR (even if they are intimidating in lecture). The professor always will work with you to bring your grade up as long as you show concern for your grades." ~Kelly
"If you want good grades, you're going to have to study hard. Everything your high school teachers told you is true—you need to read the textbooks and you need to review the information frequently. Cramming will not get you A." ~Sara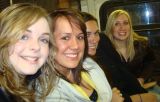 Focus your first year on getting used to college schoolwork.


"Be prepared to work harder for your grades. And even after that hard work, you may not get the grade you were used to getting in high school." ~Kelsey
"Don't get overwhelmed if they aren't good at first. College is a big adjustment from high school." ~Craig
"It's more about working hard and reading all of the material. If you work hard and study on a regular basis, you'll get much better grades." ~Austin
Tweet
What makes credit unions so great? Members like you.

Every dollar you invest in your credit union earns you money while other members borrow it.

When you're ready for a loan, other members' savings will be there to help you out at the lowest possible cost.