Getting Involved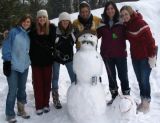 Get involved, meet people, and do something for your college.


"It is important to get involved in one or two activities to meet new people. But don't get too overwhelmed in extra activities." ~Meghan
"At the beginning of the year, there are many student organization fairs. You should attend them and talk to people at the different booths. I guarantee there will be something there that interests you." ~Kelly
"Getting involved in activities, extra-curriculars, clubs, intramurals or actual sports teams is a great way of meeting new people." ~Brittany
"These is bound to be something for you to get involved with, if not, find a way to start your own group. Chances are there is someone else out there with the same interests." ~Kelsey
"Definitely make an attempt to be involved in something, but don't overwhelm yourself either." ~Craig
Tweet
What makes credit unions so great? Members like you.

Every dollar you invest in your credit union earns you money while other members borrow it.

When you're ready for a loan, other members' savings will be there to help you out at the lowest possible cost.