Save more money
Paying a lot of money for gear isn't the only way to get great gear—try borrowing clubs, shoes, carts, or balls from other families that you know.
Renting is a great way to try out different clubs and brands. However, if you play a lot, this can be costly and it would be better to have your own set.
Green fees can be costly! These are the fees golf courses charge, and you can save on them, too.
Many courses give you discounts if you caddy or work there. By working there, you not only gain golfing experience and cheaper green fees, but you also get to hang out and watch the pros while picking up some extra cash.
Public courses are usually less expensive than private courses. However, watch out for low-quality public courses— ones that have been maintained poorly or hit by bad weather (high water or winds causing fallen trees).
If you are able to play a lot, most courses offer a membership fee that lets you pay one flat fee for unlimited golf. Many times you also get additional privileges with the membership.
Courses also offer specials to try to get golfers to the course during odd hours (weekdays or twilight, for example).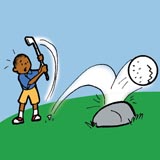 Most importantly, have fun playing!


Enough talk about money!
Even though golf can be an expensive sport, it is relaxing. You meet many new people. Making new friends is a great way to enjoy golf fully.
Not to mention: A golf outing also is plenty of exercise!
If you follow some of these tips, you can have a lot of fun and not kill your cash!

True or False: Lincoln was watching the play 'Annie Get Your Gun' at Fordís Theater when he was assassinated.
Click Abe's head for the answer.
FALSE: He was watching the play 'Our American Cousin' at Ford's Theatre.