Going for the Gold
A competitive dream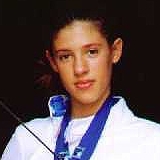 To the point with Kelly Hurley.
Kelly Hurley is from San Antonio, Texas. Just turned 16 when she was interviewed for this story, she's one of the top women fencers in the world.
Fencing is like dueling with swords. It is so fast the sword touches have to be scored electrically -- more like Star Wars than the choreographed bouts you see on film or on the stage.
Kelly's fencing event is called épée, which refers to the type of sword she uses. To become as good as she is, Kelly also spends any hours training.
What motivates her?
Competition motivates her, but unlike Stephanie, Kelly didn't always love what she's devoted her life to.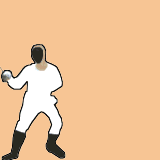 Kelly trains 20 hours a week.
"I was never interested in fencing until I was ten," says Kelly, "but I have always been competitive with sports in general, such as swimming and softball."
In addition to time and dedication, it takes money to pursue an Olympic dream.
What does it cost?
"It costs money to do everything," says Kelly. "It's very expensive to train at this level. It costs money for equipment, club dues, airfare, hotels, transportation, and -- to actually compete -- there are entry fees."
Many sports have organizations that help with expenses and attempt to get companies to serve as sponsors. The sponsors give
Entry fees -- the price for success.
money to help the athletes train, and in return, the sponsors get to advertise their product at athletics events and in posters and programs.
In Kelly's case, "The money is taken care of by my parents. We tried to get some sponsors, but no one was very interested in fencing."
What about travel?
Competing at an Olympic level means lots of travel.Check out these poems, art, puzzles, and games by young swimmers."Synchronized swimming's road time is mainly during the summer," says Stephanie. "Most of the 'problems' that we have encountered have been the weather."
It was extremely hot in the Dominican Republic for the Pan Am Games and in Barcelona, Spain for the world championships. Stephanie says, "When we travel, the language barrier is not bad at all because mostly everyone now speaks a little English."
For Kelly, competition is year-round.
"During this past year, I spent approximately four months traveling throughout Europe and the Caribbean (Cuba and Puerto Rico,)" says Kelly. "I was in a different country every week."
"The language barrier was the toughest problem," she says. "For instance, when we were in France for a week, we had picked up a few words relating to directions and other information. By this time, we had to travel to another country and start over again.
Whoa! This is really driving!
Also, the
autobahn
(the highway system in Europe) is much different from the freeways in the United States," says Kelly. "They are very difficult to navigate. It was also difficult to adjust to the time differences."
It's worth it
Both athletes say these inconveniences are worth it, particularly with Olympic dreams still ahead.
"For me," says Kelly, "I think qualifying for the Pan American Games in the Dominican Republic was my most exciting sports moment so far. My dream and goal, though, is to win the gold medal at the Olympics."
Unfortunately, Kelly fell ill during the games, and finished 20th overall in épée. But true to form, she's got her sights on the 2012 Olympic games in London.

True or False: Andrew Jackson was against slavery and actively campaigned to abolish it. Click Andrew's head for the answer.
FALSE: Jackson was not against slavery and in fact owned slaves at his mansion, the Hermitage.
Tweet