Find out how much it will cost.
Invite your family members to combine money to get the gift.
Collect the money, and then make the purchase. You may need help with this.
Wrap the gift creatively with home-made decorations.
Hide it, and make sure someone else knows where it is in case you forget!
You already know he will really appreciate it, since it's exactly what he wants. The special bonus is Dad knows that everyone chipped in.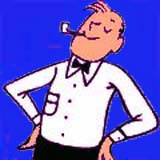 He helped you get an 'A' in math last semester!


Like a father
You can thank any adult male who cares for you in a special way: your stepfather, grandfather, uncle, Sunday school teacher, and so forth.
Has he:
Taken you to an event you really wanted to see?
Helped you with your homework?
Shown you how to do something you didn't know how to do?
Been your friend?
Let him know! You may not call him "Dad," but thank him for being like a father to you.
Homemade gifts, group gifts, and your time are perfect ways to say thanks to the wonderful men in our lives!

True or False: Lincoln was known for always being light-hearted.
Click Abe's head for the answer.
FALSE: Despite being a jokester and a storyteller, Lincoln suffered from depression.