The Balancing Act
Part 1: Keep Good Records
Balancing protects your credit rating
Credit unions have lower checking fees than banks.


In the world of financial institutions, not keeping track of your accounts is considered "mismanaging" them.
Financial institutions have the right to close mismanaged accounts, and report such actions to credit bureaus. You can lose your checking or debit account and hurt your credit rating, simultaneously.
This can result in higher interest rates on any loans you apply for, and could even affect the approval of those loans.
You can avoid all these hassles.
Keep good records
"Not keeping good records is one of the common mistakes teenagers make with their checking accounts," says Steve Carr, vice president of business development for Boulder Valley Credit Union in Boulder, Colorado.
"Some parents don't know how important it is to keep good records of transactions, so they may not know how to teach their kids," he adds.
Schools are starting to realize how important it is to teach students about checking accounts and other financial matters. Some even have in-school credit unions.
If you don't have opportunities at school, and you don't know a relative or trusted adult who can give you accurate information, you have other options. Ask your credit union how they educate members who are new at using checking/debit accounts.
Read on for C-Note's tips on how keep good records on your checking or debit account.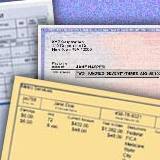 Record all checks, ATM, online and debit card transactions in your register immediately.


How to keep good records
Record all checks, ATM, online and debit card transactions—legibly— in your account register immediately. If you wait, you might forget to record them.
After you record your transaction, keep on going and figure out the balance. Always keep this balance current.
Keep all your credit union records such as deposit slips, check carbons, ATM and debit card transaction receipts, and account statements. Save them in an envelope or file so you can reconcile them with your monthly statement.
At the end of each year, go through the saved records and keep (for seven years) only the items that contain tax-related income and expenses.
Keeping good records takes a few minutes and can save you lots of dollars. The Balancing Act: Part 2 in this series shows you the next step in protecting your money: how to reconcile your checkbook with your monthly account statement.

True or False: Benjamin Franklin, ever the ladies man, asked a woman to marry him even though he was 73-years-old. Click Ben's head for the answer.
TRUE: He was enamored with the widow of a French philosopher, Anne-Catherine de Ligniville. Unfortunately she was still in love with and devoted to her dead husband.
Tweet