Dedication and Focus—Using Karate in My Life
Enjoying the benefits
I've had to learn how to teach class, plan ahead, and adapt to changes. I've also learned how to deal with various people, their personalities, and concerns.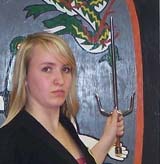 Click to see my Sai Kata.


Karate has taught me how to be self-disciplined. I'm home-schooled, and I have to be very self-disciplined to regulate and get through my studies.
I'm a part of Keystone National High School and my school work is done online and through correspondence courses that I regulate and complete at my own pace.
Without learning how to discipline myself in karate I'd fail to get through my school work.
There are many more benefits. For example, you:
Learn to respect yourself and others
Build friendships
Avoid confrontations
Defend and stand up for yourself
So far I've never had to use karate to defend myself, and I hope I never have to do so. But if I'm ever put in a position that requires self-defense I think I'd be able to take care of myself!
Using my skills
Just recently I've started
two after-school classes
with some special kids who go to a school up in the mountains about 30 minutes from where I live.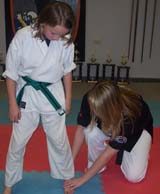 I'm helping my student learn the correct stance.


When I teach my after-school classes, I'm able to watch my students grow in so many ways.
I've seen some students physically improve, and I've seen their self-confidence grow incredibly.
They're still learning how to be respectful, but I'm sure they'll get the hang of it soon enough!
It's been a blast working with them and it's an interesting learning experience for me.
Get involved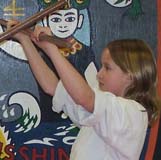 Click to see a black belt and her student work on a weapons fighting form.


I recommend that you get involved in karate or martial arts no matter what the style is!
Isshinryu is the style that fits me. I know that sounds crazy, but I feel that the style connects with my height and my abilities, and it keeps me in shape.
Since it's not a flashy style, I don't have to kick a six-foot man in the head to defend myself! Its techniques and movements are pretty straightforward.
Being able to teach this style to my students and watching them grow makes me feel really good, because I know I've made a small difference in their lives.
I also hope that I'll be able to gain even more knowledge and rank, and pass it along in my future teaching.

True or False: Franklin contributed to oceanography by recording good observations of ocean currents in off California. Click Ben's head for the answer.
FALSE: Franklin contributed to oceanography in the mid- to late 1700s by making and compiling good observations of ocean currents off the US East Coast.
Tweet