Let's Shoot Some Hoops!
Hey, do you like playing basketball? I know I do. Just about anyone can play; all you need to do is practice.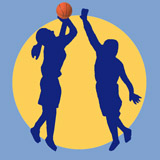 Here are the rules of basketball.
The reasons I play basketball are because:
I make friends.
It's fun.
It keeps me fit.
Where to play
You can play basketball almost anywhere you want. I play:
In a league
In pick-up games with my friends
We play indoors in gyms, or outside in parks or my driveway.
Who invented basketball?
Leagues cost money. The fee you pay covers the cost of your uniform, the referees, the use of the gym, and the trophies at the end of the season.
If you make a foul, what's a possible penalty?
One free throw for your team
Two free throws for your team
One or more free throws for the opposing team
You can sign up through your local recreation department or through National Junior Basketball (NJB). Everyone who signs up for NJB makes the team—no one is left out.
Pick-up games are free. Besides not charging you, they're a little different from leagues in other ways:
What are the different positions on a basketball team?
They have no referees.
They have no roster, so you may not know anyone that is playing.
Teams don't have to wear uniforms.
I like to tell my friends to meet me at the park for a pick-up game, or just come over and play outside my house. We call it...
Tweet